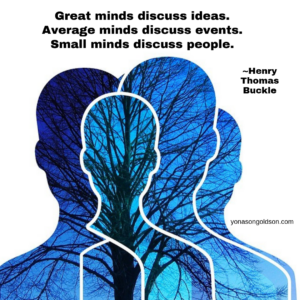 How much damage do we cause when we talk about other people?
⠀⠀⠀⠀⠀⠀⠀⠀⠀
So why do we do it?
Usually to make ourselves feel superior at the expense of others.
⠀⠀⠀⠀⠀⠀⠀⠀⠀
Ah, but it's true!
So what if it is? If there's no benefit, why say it?
⠀⠀⠀⠀⠀⠀⠀⠀⠀
How much time do we spend talking about the obvious or the irrelevant?
The weather?
The economy?
Whatever we watched on Netflix last night?
⠀⠀⠀⠀⠀⠀⠀⠀⠀
As an icebreaker, small talk serves a purpose, finding commonality with new acquaintances.
It's also important to occasionally give our minds a break from the mental demands of our jobs and the pressures of life.
But when mindless chatter becomes a staple, when it leads nowhere except to the next inanity, wouldn't we be better off with silence?
⠀⠀⠀⠀⠀⠀⠀⠀⠀
Of course, that would leave us alone with our own thoughts, and that can be a pretty scary place to be.
⠀⠀⠀⠀⠀⠀⠀⠀⠀